Proclus was born at Byzantium in 412. This date was reached due to his horoscope made by his disciple Marinus.
His mother' name was Marcella. His father Patricius, a Lycian from Xanthus, was a noble and rich man. His family was a family of judiciary magistrates.
Also he was destined to the lawyer's office. Early he was sent back to Xanthus, which he considered to be his real homeland, to do his first studies with a grammarian.
The Goddess protectress of Byzantium, the Goddess Athena, who presided over his birth and who never ceased to watch over his life, appeared him several times during his youth and exhorted him to study philosophy.
In the course of an illness he had at Xanthus, Apollo showed himself to him, touched him and cured him.
After this, he went to Alexandria, Egypt, where the rector Leonas made him his favorite pupil. There he showed a great gift towards the study of words. At the same time he studied the lessons of the grammarian Orion and made progresses in the study of Latin. But Greek, his maternal language, was the one of all his writings.
When some business called Leonas to Byzantium, Proclus went there with him.
The Goddess Athena appeared him once more and made him take the decision to go to Athens, Her beloved city. But he wasn't able fulfil Her charge until some time later.
For the time being he returned to Alexandria but he didn't returned to the rectors, instead, he took for his masters the peripatetic Olympiodorus and the mathematician Hieron. The first philosophical education of Proclus was then impregnated by Aristotelianism. But Olympiodorus was not a narrow sectarian and as all the later Peripatetics he leaned towards eclecticism and borrowed heavily from Stoicism.
Olympiodorus wished to marry his daughter with his pupil, but Proclus was rebel towards marriage. Through his ascetic life woman seem to play only a minimal role except for some wise conversations.
At the same time, Hieron initiated him at his own religious ideas.
Only after this second stay at Alexandria, he was not yet twenty years old, Proclus went to Athens were he was going to stay almost all his life. Curtis places this voyage in 429.
Athens was then a relatively prosperous. The Antonines, and particularly Marcus Aurelius, had built there a great public school where the different human sciences were taught by professors paid with a fixed amount by the imperial treasury. Damascius tells us, on a text preserved by Photius and Suidas, that the diadochus or successors of Plato had step by step reached a true opulence due to the numerous legacies received by the school.
Proclus, as an ancient worshiper of the Goddess Athena searching the proximity of the Goddess, lodged himself at the south side of the Acropolis, near the Sanctuary of Asclepius.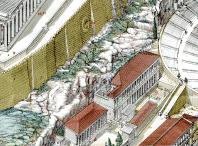 Reconstruction of the Sanctuary of Asclepius
The Parthenon (top left) is just over
the Sanctuary of Asclepius (center)
Athens, Greece
At his arrival in Piraeus, the port of Athens, the young Proclus was received by the rector Nicolaos, who came to the port to offer his hospitality as to a fellow countryman.
He rested a short while at a place were there was a Temple erected in memory of Socrates. Happy presage, notes his biographer. He arrived at the exact moment when the doors of the city were going to be closed. Marinus, the biographer, concluded symbolically that if Proclus hadn't come, the school of Alexandria would have been extinguished.
On those days, the effective chief of the school of Athens was the neoplatonic Syrianus, and it wass from him that Proclus heard the first lesson, to which also assisted Lachares, at the same time rector and philosopher. Then Syrianus presented Proclus to Plutarch, sun of Nestorius, his predecessor, who due to age was forced into semi-retirement. But Plutarch accepted Proclus as auditor of his courses.
We stay with the impression that the voyage of Proclus to Athens had been prepared, that he was expected by his guests and that at Athens his way was already preordained.
Under the guidance of Plutarch of Athens who was thus his first initiator, he commented the influential view of Aristotle, presented in De Anima (Of the Soul), (were Aristotle agreed with Plato that mental phenomena are not wholly reducible to states of the body; but he rejected the idea that people are unions of two distinct substances, viz. body and soul. Instead, he argued that the mind is a set of higher powers of a living organism, a rational animal, and that the highest of these properties or powers - abstract thought - transcends the capacity of matter). He also commented Plato's book Phaedo (with the death scene of Socrates, in which he discusses the theory of forms, the nature of the soul, and the question of immortality).
Two years later, before dying when 74 years old, Plutarch recommended Proclus to Syrianus, the director of the Academy in Athens, which received him at his house and never leave him.
Syrianus became then his real patron, and Proclus, in spite of being more gifted, presented himself always as his disciple.
First, his master made him read again all Aristotle's books, which Syrianus had been the commentator, but which philosophy was to him only a starting point. Proclus retook then the studies he had with Olympiodorus in Alexandria, but this time under a new angle, because Syrianus was a true platonic; the Aristotelianism was for him only a first step to a higher elevation. In the end, it was Syrianus who opened to Proclus the Sanctuary were he would find his homeland. Proclus was only 28 years old when he wrote his own commentary to Plato's book Timaeus.
But the Platonism of Syrianus was already enriched with religious speculation. He taught also to Proclus the mysteries of Theurgy and gave him the character of Initiated and Pontifex.
At the same time Asclepigenia, daughter of Plutarch of Athens, instructed him with the wisdom of the Chaldean Oracles, already in use in the 3rd-century by Porphyry the Syrian-Greek scholar and philosopher.
Proclus began to meditate the Chaldean Oracles and the Orphic Hymns. He added marginal notes to the commentaries made by Syrianus.
Since this time Proclus was already prepared for contemplative life: he had embraced, we are told by Marinus, the Pythagorean abstinence and he used soberly from love; he refused all his life to marry, reserving himself to the exercise of devoted friendship. Archiadas, his colleague, was his best friend.
When Syrianus died in 450, Proclus succeeded him at the head of the Academy, which he directed for more then 30 years with the title of diadochus ("successor" to Plato).
This direction was not without trouble, because Christianity, now religion of state, did not see these free thinkers and worshipers of the Greco-Roman religion with good eyes.
Proclus did not engage directly in politics; he limited himself to a rather active social life, being as an example surcharged with tutorships, giving also advises when he went to assemblies, surrounded by a great prestige as man and as scholar, being a venerable figure of the city.
But he was also persecuted and needed to exile himself voluntarily to escape the traps of his enemies. Thus he spent one year in Asia, busied with the Greco-Roman rites, before reassuming his functions at the Academy.
Athena, the Goddess to whom he had vowed his fidelity and whom he had made himself the fateful neighbor, had appeared to him in a dream and advised him to search for shelter. He makes allusion to this episode at the beginning of his book about Astronomy, were he states that he has returned to Athens happily liberated by a wholesome divinity from different hostilities which seamed endless.
He busied himself with the well-being of the city and saved it from a dryness due to warnings from on high.
When the statue of the Goddess Athena was removed from the Parthenon, the Goddess appeared to Proclus and said to him: They turned me out of my Temple, now I come to live with you. Since then She lives in our homes and in our hearts.
We can glimpse the physiognomy of Proclus through the description given by Marinus and through some other concordant testimonies.
No one has contested the merits of this wise man nor the authority which was bound to his person. Even Damascius makes no reservations in this point.
His beauty, which is told to us by his biographer, was up to his moral value. Testifying a great force of soul when in suffering. He had a grave and inspired eloquence.
If he was ambitious, we are told, it was only of glory, and more towards Philosophy, to which he felt to be the depositary, then towards himself.
If he was in wrath, he knew also to dominate himself. If he inspired respect naturally, it was because he professed respect with modesty towards his teachers.
Towards Plato, his religion was without failure. He expended analogous epithtets, although some times less solemns, towards other philosophers, such as Aristotle, Plotinus or Iamblichus, as to mark the hierarchy of values.
His master Syrianus, from whom he followed most of the time the opinions, benefited from his veneration constantly reaffirmed.
Numerous are the other commentators of Plato whom he praised, even when he was not in accordance with them.
He was surrounded in his teaching by such a cult that an eminent politician named Rufin saw him at his course surrounded by a aureole. This same Rufin offered him after his return from Asia a great amount of money, which he refused.
But Proclus was mainly a devotee, a sort of saint, whose attitudes only could be compared to the ones of an ascetic.
He used to spent long hours in prayer, at sunrise, at down and at midday. He even used to pray in bed.
About the benefits of prayer he has, even in his most theoretical works, as the commentary on Timaeus, extensive developments, impregnated with religious ecstasy.
He has consecrated to the Greco-Roman Gods some poems full of faith, of a moving lyricism.
He was in permanent communication with the Greco-Roman sky, receiving constantly apparitions and messages from above.
He took lessons from them and tried to help with those lessons his fellowman. It was attributed to him the merit of having saved Asclepigenius through his prayers.
Faithful to the observance of all Greco-Roman rites, he also practiced abstinence from food in certain days.
He used to celebrate each month the ceremonies of the Great Mother, to respect the unlawful days, to participated in nocturne reunions accompanied by hymns and chants.
He even used the art of making turn the divine spheres without words. He used the jaculatory prayers and used the tripod for divination.
He used to commemorate piously the birthdays of Socrates and Plato.
Truly he exceeded in some extent the traditional cult of the Hellenes. He integrated in it some elements of oriental origin and he was fully conscious of his syncretism, because he called himself "priest of all religions".
The Christian faith was of course excluded from this system, because he was afraid of the effects it would have upon the civilization to which he was bound by all his nerve and which had allowed the free development of greek thinking.
But if he fought against Christianity in the name of his ideal, he kept himself always in the philosophical plan, he had not hate for it, and some Christians attacked him with such a violent polemic as he never used against them.
But we can not miss his fervor, his spirituality and his passion towards the supernatural.
There was in him a mystical side related with Hermetism, from which he loved the secret and the marvelous, and with the Greco-Roman religion to which he belonged.
He thought have, we are told by Marinus, the soul of the pythagorean philosopher Nicomacus.
He believed in statues which move by themselves as the tables of spiritualists, and also in the magical virtues of some stones and of some plants. He was completely filled with Theurgy.
He was interested in the celestial signs and had a passion for symbolic interpretation.
It is not less truth that a powerful breath raised his intrepid soul above himself; and its a moving sight to see this wise man feed in superabundance with all the positive knowledge of his time and trying to defend further a faith in the moment of being overcome.
The philosophical activity of Proclus was intense and prone to overactivity. Each day he used to give five lectures, more some purely oral conferences and he used to write seven hundred lines.
About the surroundings of Proclus we know that Ammonius, chief of the School of Alexandria and one of the most proficient commentator of Aristotle, had been trusted by his mother to Proclus. Heliodorus, brother of Ammonius, had also been a disciple of Proclus.
Between his disciples, Damascius tells us about Heraiscus, whom Proclus had recognized as superior to himself. He dedicated to him a paper about the general doctrine of the Egyptians.
Another one has been Zenodotus, whom was said to be the delight of Proclus and about whom he had great hopes.
Simplicius, who wrote in the following century, states that the philosophers who came close to him all followed his doctrine, with the only exception of Asclepiodorus, the best pupil of Proclus, which stayed a free thinker attached to systematic doubt.
Damascius tells us also about Theagenus, a rich and liberal senator. Severianus, from Damas, another pupil, took part in a conspiracy to restore the Greco-Roman religion. Panegrapius, from Thebes or Panopolis, also pupil of Proclus, departed Athens to live in Constantinople were he gained a great influence over Zeno, and also participated in the same conspiracy as did Severianus.
In general a great number of pupils surrounded Proclus and followed his doctrines, and mainly turned themselves towards the Greco-Roman religion and the Oriental religions.
Proclus died at Athens in 485, aged 73 years old.
He was burried following the rite of Athens, near his master Syrianus, not far from Mount Lycabettus.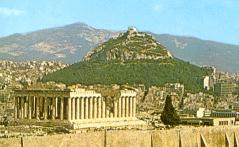 Mount Lycabettus
The Parthenon (first plan) and
Mount Lycabettus (second plan)
Athens, Greece
On his grave one could read this engraved inscription:

I am Proclus,
Lycian whom Syrianus brought up to teach his doctrine after him.
This tomb reunites both our bodies.
May an identical sejourn be reserved to our both souls!
His death, according with Marinus, was preceded and followed be celestial prodigies attesting the eclipse of light which philosophy was having.
Proclus legated his belongings to his native town, to Athens and to his friend Archiadas.
After him, his succession fell upon Marinus, from Neapolis in Palestine.
Truly, Proclus was afraid with the weakness of Marinus' health, but he was confident about his orthodoxy and his zeal.
He thought he would keep the prestige of platonism, not breaking with the tradition of Iamblichus and Plutarch, and that he would not also take vanity from a preference dictated by the common interest of the school.
Marinus showed his recognition writing his biography.

Links:

---
Back to the top
---
Copyright ©1999 Roy George